How to remove spammy facebook apps. (updated)
When facebook released their new timeline layout, the path you must take to remove junk applications from your facebook profile has also changed, so I thought I would post the new steps to help out anyone in need.  It is still fairly easy to do, so lets get to it.
Step 1

And select privacy settings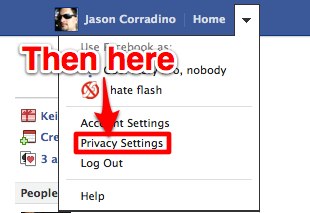 Step 2
Scroll down to Apps and Websites and click Edit Settings

Step 3
Select "Remove unwanted or spammy apps"

Step 4
Now we just need to select the application

and then remove it

And that's it, now just repeat step 4 until you've removed all of the apps you don't want.